Datex Ohmeda S 5 Anesthesia Monitor – Refurbished & Used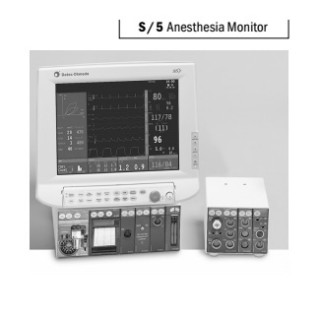 Description:
The Datex S 5 anesthesia monitor has stood the test of time, to bring your facility the very best in patient care analysis. With familiar 8-waveform configuration, open hardware architecture and extended arrhythmia calculations, the S5 works hard to be your reliable counterpart.
The Datex Ohmeda S 5 anesthesia monitor is regarded as one of the most dependable monitors in anesthesia care, which is why Doctors Depot takes the time to bring all of its components up to speed. We take guesswork out of the equation by employing our years of refurbishing experience, so that your clinic gets just the machine it needs.
The Datex Ohmeda S 5 anesthesia monitor is equipped to handle all of your clinics needs, from the routine to the most demanding of days. Continuous trend-monitoring with an anesthesia-specific command bar gives the S5 power to be your vigilant partner while remaining simple and familiar.
Standard 8-waveform patterns ensure that you are constantly updated on patient vitals, while 6 user configurable modes and special cardiac bypass mode give you options to expand your care. Split screen capability gives your clinician the whole picture with waveform snapshots to store and recall samples. Connection to the Datex-Ohmeda S/5 Device Interfacing System allows for seamless machine integration and peace of mind.
With the S5 giving you eyes and ears on your patients vitals, proximity is key. Four display options with integrated monitor controls, put the S5 right where you need it - choose from 15 inch or 17 inch high resolution color video display or 10.4 inch or 15 inch flat panel color LCD display. Anticipating advanced needs, the S5 supports user configurable second and third displays for additional waveform and numerical information.
The Datex Ohmeda S5 anesthesia monitor exceeds clinician expectations, with Doctors Depot maintained features including:
Split screen capability to show ST, spirometry loops, EEG, EP or mini trends permanently
24 hour numerical and graphical trends
S/5 Com Bar for intuitive anesthesia access
S/5 Extension Frame, providing 4 additional module slots
S/5 Remote Controller,
Large 21" color slave CRT display
Four display options: 15" or 17" high-resolution color video display, or 10.4" or 15" flat panel color LCD display
Doctors Depot ensures the utmost care goes into maintaining all components of the Datascope, Datex Ohmeda, Drager, GE and Mindray anesthesia machines we sell.
Our team realizes the exceptional capabilities of an Datex Ohmeda S5 anesthesia monitor make it a standout in the anesthesia administration community. That is why Doctors Depot enlists years of experience and technical advances to refurbish the S5 to perfect, working condition.